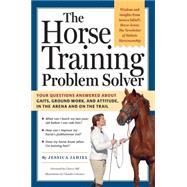 Note: Supplemental materials are not guaranteed with Rental or Used book purchases.
ISBN: 9781580176866 | 1580176860
Cover: Paperback
Copyright: 9/30/2007
Training a horse brings an array of vexing challenges. What should a rider do with a horse who just won't listen? What about the horse who quickly tires, or becomes cranky during training? And there are horses who behave well in the presence of an instructor, but -- maddeningly -- never while alone with the rider. Situations like these can leave even the most enthusiastic equestrian feeling discouraged, frustrated, and even downright helpless.Jessica Johiel comes to the rescue with "The Horse Training Problem Solver", the third title in her popular Problem solver series. In her informal yet informative style, Jahiel offers sensible answers to riders' most common training challenges. Presented in a handy, accessible QandA format, Jahiel uses real-life case studies to bring troublesome situations to life, and then solves the problems with tested, proven solutions.The book's combination of basic training theory, effective solutions, and handy tips and strategies will help riders get the most out of every training session. Best of all, Jahiel breaks down training goals -- from simple commands like "whoa and go" to complex transitions and ring figures -- into simple building blocks, logical to both horse and human. Riders will begin to gain their animal's trust, develop realistic expectations, stay focused, and engage in effective two-way communication, ultimately resulting in a happier, better-trained, more enjoyable horse.For the millions of Americans who show, train, or own horses -- including the steady, growing market of first-time horse owners -- "The Horse Training Problem Solver" is an indispensable reference. It will demystify horse training, improve the horse-rider relationship, and ensure a more satisfying experience for both horse and rider.