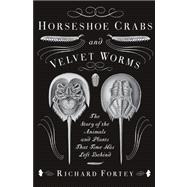 Note: Supplemental materials are not guaranteed with Rental or Used book purchases.
ISBN: 9780307275530 | 0307275531
Cover: Trade Paper
Copyright: 12/11/2012
From one of the world's leading natural scientists and the acclaimed author of Trilobite!, Life: A Natural History of Four Billion Years of Life on Earthand Dry Storeroom No. 1comes a fascinating chronicle of life's history told not through the fossil record but through the stories of organisms that have survived, almost unchanged, throughout time. Evolution, it seems, has not completely obliterated its tracks as more advanced organisms have evolved; the history of life on earth is far older-and odder-than many of us realize. Scattered across the globe, these remarkable plants and animals continue to mark seminal events in geological time. From a moonlit beach in Delaware, where the hardy horseshoe crab shuffles its way to a frenzy of mass mating just as it did 450 million years ago, to the dense rainforests of New Zealand, where the elusive, unprepossessing velvet worm has burrowed deep into rotting timber since before the breakup of the ancient supercontinent, to a stretch of Australian coastline with stromatolite formations that bear witness to the Precambrian dawn, the existence of these survivors offers us a tantalizing glimpse of pivotal points in evolutionary history. These are not "living fossils" but rather a handful of tenacious creatures of days long gone. Written in buoyant, sparkling prose, Horseshoe Crabs and Velvet Wormsis a marvelously captivating exploration of the world's old-timers combining the very best of science writing with an explorer's sense of adventure and wonder.