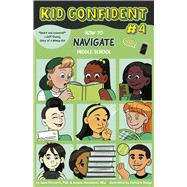 Note: Supplemental materials are not guaranteed with Rental or Used book purchases.
ISBN: 9781433838224 | 1433838222
Cover: Hardcover
Copyright: 2/21/2023
"Smart and essential!" —Jeff Kinney, author of Diary of a Wimpy Kid series

"They used to tell kids to chant "sticks and stones" or "just ignore it." It didn't work. This book helps kids find the opposite approach: don't ignore it; understand it."--Tom Angleberger, Origami Yoda
How to Navigate Middle School shows readers how to handle the increasing academic demands of middle school, organizational skills and time management, how to be self-determined, have grit, and a sense of agency.
Whether you are just starting middle school or getting ready for the next grade, you probably have ideas about what the school year will be like--or should be like. Maybe you imagine that perfect day in middle school, where you are picked class president, made tons of new friends, or became the captain of the soccer team, or crushed your Spanish vocab test. Or maybe you imagine more a disastrous days...where you can't get your locker open, don't have anywhere to sit in the cafeteria, or trip while walking down the hallway. Or maybe you have heard from a friend or older sibling  middle school teachers are strict or you will have 10 hours of homework a night! 
Whatever you have heard, it's most likely a combination some truth but a whole lot of drama and exaggeration. This book will help you separate fact from fiction and give you the tools and strategies you will need to find your place and be your best self in middle school. It will  help you handle the increasing academic demands of middle school, teach amazing organizational skills and time management, show you what it takes to have grit and grow in amazing ways!
Kid Confident Book 4: How to Navigate Middle School 
is part of an
awesome book series developed with expert psychologist and series editor, Bonnie Zucker, PsyD that authentically captures the middle school experience. These nonfiction books skillfully guide middle schoolers through those tricky years between elementary and high school with a supporting voice of a trusted big sister or a favorite aunt, stealthily offering life lessons and evidence-based coping skills. Readers of Telgemeir's
Guts
will recognize similar mental health and wellness strategies and fans of Patterson's
Middle School
series will appreciate the honest look at uncertainty and chaos that middle graders can bring. 
Kid Confident
offers what kids need to have fun with it all and navigate middle school with confidence, humor, perspective, and feel our mad respect for being the amazing humans they already are. 
Books in the series:
Kid Confident (Book #1): How to Manage Your SOCIAL POWER in Middle School
by Bonnie Zucker, PsyD
Kid Confident (Book #2): How to Master Your MOOD in Middle School 
by Lenka Glassman, PsyD
Kid Confident (Book #3): How to Handle STRESS for Middle School Success 
by Silvi Guerra, PsyD
Kid Confident (Book #4): How to NAVIGATE Middle School 
by Anna Pozzatti, PhD & Bonnie Massimino, MEd