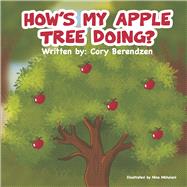 Note: Supplemental materials are not guaranteed with Rental or Used book purchases.
ISBN: 9798350921618 | 8350921617
Cover: Paperback
Copyright: 9/28/2023
Immerse yourself in the heartwarming tale of 'How's My Apple Tree Doing?' as Cory Berendzen weaves a narrative that encapsulates the profound impact of small choices and unexpected blessings. The story revolves around a family facing the stark reality of financial adversity—job loss and diminished income—without the necessary knowledge to extricate themselves from their predicament. Unveiling the consequences of their past actions, the family grapples with the weight of their circumstances, which stem from not prioritizing future financial security.

A pivotal moment arrives when their son Mateo brings home a seed from school—an apple tree seed. In a twist of fate, this humble seed becomes a catalyst for change, leading the family down a path of disciplined transformation. At the heart of the story is a family united by love, with parents dedicated to the happiness of their young children.

As the apple tree takes root and grows, its nurturing journey parallels the family's own evolution. The careful nurturing of the tree mirrors the incremental changes the family embraces, including the cultivation of financial discipline. Each stage of the tree's growth corresponds with the family's progress in adopting regular, measured steps toward their goals.

The true magic of this story unfolds when the tree matures and bears fruit, many years after its initial planting. The family's steadfast dedication and newfound discipline culminate in a reward that transcends their initial misfortune. The parents' ability to bless their children in a profound way becomes possible due to the transformative journey they undertook.

'How's My Apple Tree Doing?' is a touching narrative that speaks to the power of resilience, hope, and the potential for positive change. Cory Berendzen, the author, is a multifaceted individual whose passions span the realms of fatherhood, health, wellness, finance, and education. Through his podcast, the Berendzen Bond Podcast, he captures life's moments and engages in discussions on subjects that matter deeply to him, nurturing a community built on shared values and interests.