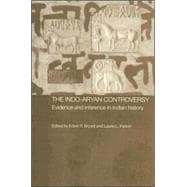 Note: Supplemental materials are not guaranteed with Rental or Used book purchases.
ISBN: 9780700714636 | 0700714634
Cover: Nonspecific Binding
Copyright: 9/22/2005
For the first time in a single volume, this book presents the various arguments in the Indo-Aryan controversy by some of the principal scholars in this field of study. Its essays provide a template for the basic issues involved in the debates by addressing four major areas. First, archaeologists consider some of the recent findings and interpretations of the archaeological record, focusing particularly on the issue of the relationship between the Indus Valley archaeological complex and the culture of the Indo-Aryans as expressed in the Vedic texts. These chapters consider whether there was more continuity between the two civilizations than has been assumed in earlier works, and evaluate whether there is enough evidence to establish a definitive scholarly consensus as to whether or not the Indus civilization was actually Indo-Aryan. Second, scholars take on some of the linguistic issues in the debate, particularly the relationship between Indo-Aryan and its parent language Indo-European, as well as the linguistic borrowings between languages and language families. The discussion here rests on whether the traditional rules of linguistic derivation for Indo-European languages allow for the possibility that the origins of the Indo-Aryan languages developed in India itself. Additionally, authors debate whether contact between Indo-Aryan and non-Indo-Aryan languages (such as Dravidian or Munda) is the result of Indo-Aryan as a language intruding into the subcontinent, or whether other types of mutual interactions between those languages can account for such contacts. Third, philological scholars sieve through the Vedic texts to find clues that might situate the Vedic Aryans in space and time by correlating them with the archaeological record. Different scholars examine references to items associated with the Indo-Aryans such as iron, the horse, and chariot, as well as astronomical data, to consider the implication such references have for the dating of the Veda, a crucial issue in this debate, and the geography of its horizons. Finally, historians contribute historiographical contexts for the debates, stressing the ways in which positions on this issue might be influenced by socio-political or ideological currents, both in the early debates in the nineteenth century as well as today. Book jacket.