The Insurgents David Petraeus and the Plot to Change the American Way of War
, by
Kaplan, Fred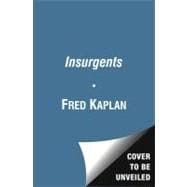 Note: Supplemental materials are not guaranteed with Rental or Used book purchases.
ISBN: 9781451642636 | 1451642636
Cover: Hardcover
Copyright: 1/2/2013
The inside story of the small group of soldier-scholars who changed the way the Pentagon does business and the American military fights wars, against fierce resistance from within their own ranks. Based on previously unavailable documents and interviews with more than 100 key characters, including General David Petraeus, The Insurgentsunfolds against the backdrop of two wars waged against insurgencies in Iraq and Afghanistan. But the main insurgency is the one led at home, by a new generation of officersincluding Petraeus, John Nagl, David Kilcullen, and H.R. McMasterwho were seized with an idea on how to fight these kinds of "small wars," and who adapted their enemies' techniques to overhaul their own Army. Fred Kaplan explains where their idea came from, and how the men and women who latched onto this idea created a community (some would refer to themselves as a "cabal") and maneuvered the idea through the highest echelons of power. This is a cautionary tale about how creative ideas can harden into dogma, how smart strategists"the best and the brightest" of todaycan win bureaucratic battles but still lose the wars. The Insurgents made the U.S. military more adaptive to the conflicts of the post-Cold War era, but their self-confidence led us deeper into wars we shouldn't have fought and couldn't help but lose.