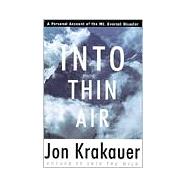 Note: Supplemental materials are not guaranteed with Rental or Used book purchases.
ISBN: 9780679457527 | 0679457526
Cover: Hardcover
Copyright: 4/22/1997
When Jon Krakauer reached the summit of Mt. Everest in the early afternoon of May 10, 1996, he hadn't slept in fifty-seven hours and was reeling from the brain-altering effects of oxygen depletion. As he turned to begin his long, dangerous descent from 29,028 feet, twenty other climbers were still pushing doggedly toward the top. No one had noticed that the sky had begun to fill with clouds. Six hours later and 3,000 feet lower, in 70-knot winds and blinding snow, Krakauer collapsed in his tent, freezing, hallucinating from exhaustion and hypoxia, but safe. The following morning he learned that six of his fellow climbers hadn't made it back to their camp and were in a desperate struggle for their lives. When the storm finally passed, five of them would be dead, and the sixth so horribly frostbitten that his right hand would have to be amputated. Into Thin Air is the definitive account of the deadliest season in the history of Everest. A New York Times Editors' Choice as a best book of the year, a nominee for the National Book Critics Circle Award, and a finalist for the Pulitzer Prize, it has spent well over a year on The New York Times bestseller list and has been published to enormous acclaim around the world. Now, in Into Thin Air: The Illustrated Edition, readers are given a new dimension of insight into this harrowing story with the addition of more than 250 photographs that show the people, the places, and the history, illustrating not only the ill-fated 1996 climb, but the pursuit of Everest itself. The book includes the complete text of Into Thin Air, with a new Postscript by the author, and is lavishly illustrated with stunning black-and-white photographs, the majority of which were taken during the 1996 expedition by the climbers themselves. Into Thin Air has proven itself a modern classic of nonfiction writing; this new edition finally completes the story and puts it into a form that book lovers will want to keep on their shelves for years to come. All of Jon Krakauer's share of royalties from sales of this edition of Into Thin Air, and fees for the use of photographs taken by Klev Schoening, Thomas Hornbein, and Lou Kasischke that appear in this edition, will be donated to the Everest '96 Memorial Fund at The Community Foundation, located in Boulder, Colorado. Intended to honor Andy Harris, Doug Hansen, Rob Hall, Yasuko Namba, and Scott Fischer, the Everest '96 Memorial Fund will be used to provide humanitarian aid to the indigenous peoples of the Himalaya; to support organizations working to preserve the natural environment; and to assist various other charities in the United States that support these humanitarian and environmental efforts.