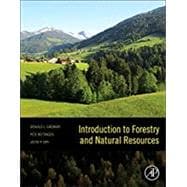 Note: Supplemental materials are not guaranteed with Rental or Used book purchases.
ISBN: 9780123869012 | 0123869013
Cover: Hardcover
Copyright: 2/7/2013
Introduction to Forestry and Natural Resources presents a broad overview of the profession of forestry, introducing a number of fields within forestry to intrigue readers and thus stimulate them to seek more information on these topics. Key subjects emphasized are forest health, economics, policy, utilization, and forestry careers. This book provides a concise overview of these topics for undergraduate introductory courses, and includes numerous examples (mainly graphical) and questions for students to ponder. This is the next-generation introductory forestry textbook. Other introductory forestry texts focus a large portion of their text on forest ecology, rather than on practical forestry concepts. The field of forestry entails economic, ecological, and social aspects, and Introduction to Forestry and Natural Resources provides a more balanced text than the competition, one which through its distinct differences better facilitates the teaching of introductory forestry concepts. Offers at least 300 original illustrations including line art, graphs, tables and maps, providing an excellent visual aids to the introductory learner. Provides additional syllabus-planning assistance for adopting professors so that they can add the content to their course materials, via the companion site question-and-answer material for each chapter . Includes broad sketch of the forestry profession and the opportunities and challenges currently faced, appealing to a wide audience of readers considering forestry or a related aspect as a career. Contributing team are experienced textbook authors with diverse professional backgrounds in forestry; their range of experience equips them especially well to identify missing content from other texts in the area, and address topics currently covered in the corresponding college courses.