The Jamestown Brides The Story of England's "Maids for Virginia"
, by
Potter, Jennifer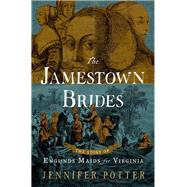 Note: Supplemental materials are not guaranteed with Rental or Used book purchases.
ISBN: 9780190942632 | 0190942630
Cover: Hardcover
Copyright: 6/3/2019
Jamestown, England's first real foothold in the New World, was fraught with danger -- from starvation and disease to violent skirmishes between colonists and the native populations. Mortality rates were impossibly high: Six out of seven settlers died within the first few years. How clear these and other perils were made to the fifty-six young women who left their homes and boarded ships in England in 1621, nearly fifteen years after Jamestown's founding, is not known. But we do know who they were. Their ages ranged from sixteen to twenty-eight, and they were deemed "young and uncorrupt." Each had a bride price of 150 pounds of tobacco set by the Virginia Company, which funded their voyage. Though the women had all gone of their own free will, they were to be sold into marriage, generating a profit for investors and helping ensure the colony's long-term viability.

Without letters or journals (young women from middling classes had not generally been taught to write), Jennifer Potter turned to the Virginia Company's merchant lists -- which were used as a kind of sales catalog for prospective husbands -- as well as censuses, court records, the minutes of Virginia's General Assemblies, letters to England from their male counterparts, and other such accounts of the everyday life of the early colonists. In The Jamestown Brides, she spins a fascinating tale of courage and survival, exploring the women's lives in England before their departure and their experiences in Jamestown. Some were married before the ships left harbor. Some were killed in an attack by the native population only months after their arrival. A few never married at all. In telling the story of these "Maids for Virginia" Potter sheds light on life for women in early modern England and in the New World.