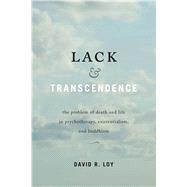 Note: Supplemental materials are not guaranteed with Rental or Used book purchases.
ISBN: 9781614295235 | 1614295239
Cover: Paperback
Copyright: 11/13/2018
David R. Loy draws from giants of psychotherapy and existentialism, from Nietzsche to Kierkegaard to Sartre, to explore the fundamental issues of life, death, and what motivates us.

Whatever the differences in their methods and goals, psychotherapy, existentialism, and Buddhism are all concerned with the same fundamental issues of life and death—and death-in-life. In Lack and Transcendence (originally published by Humanities Press in 1996), David R. Loy brings all three traditions together, casting new light on each. Written in clear, jargon-free style that does not assume prior familiarity, this book will appeal to a wide variety of readers including psychotherapists and psychoanalysts, scholars of religion, Continental philosophers, and readers seeking clarity on the Great Matter itself. Loy draws from giants of psychotherapy, particularly Freud, Rollo May, Irvin Yalom, and Otto Rank; great existentialist thinkers, particularly Nietzsche, Kierkegaard, Heidegger, and Sartre; and the teachings Buddhism, particularly as interpreted by Nagarjuna, Huineng and Dogen. This is the definitive edition of Loy's seminal classic.