Landmarks in Western Science: From Prehistory to the Atomic Age
, by
Whitfield,Peter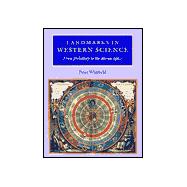 Note: Supplemental materials are not guaranteed with Rental or Used book purchases.
ISBN: 9780415925334 | 0415925339
Cover: Hardcover
Copyright: 10/21/1999
Science's greatest moments are celebrated and examined in this wide-ranging and colorful survey that highlights significant discoveries and turning points in mathematics, astronomy, physics, medicine, geology, and many other fields. From man's earliest use of tools and his first recording of scientific phenomena, to the latest achievements in the fields of biological engineering, the evolution of scientific thought is revealed as a series of revolutionary changes-rather than as the result of a steady accumulation of knowledge. Examining important advances by such luminaries as Copernicus, Vesalius, Newton, Darwin, Freud and others, historian Peter Whitfield discusses their context and impact and charts their progress from heresy to orthodoxy. Along the way he poses fundamental questions about scientific belief: Where does its authority spring from? In what sense does science claim to be true, while other products of the human mind-religion, art, or philosophy-are considered merely subjective? And, forall the progress that has been made, are we any nearer to ultimate truth than the Renaissance alchemist? Richly illustrated and eminently readable, this fascinating account helps us better understand how scientific ideas have been circulated and received at different periods in history as it reveals the sequence of faltering steps mankind has taken in an effort to better understand the world around us.