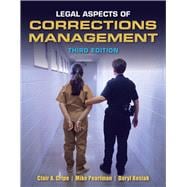 Note: Supplemental materials are not guaranteed with Rental or Used book purchases.
ISBN: 9781449639402 | 1449639402
Cover: Paperback
Copyright: 2/29/2012
This updated third edition of Legal Aspects of Corrections Management provides a current, informative, and reader-friendly discussion of the contemporary legal issues impacting corrections management. Through the use of case law, this text provides readers with a practical understanding of how the First, Fourth, Fifth, Eighth and Fourteenth Amendments relate to the day-to-day issues of running a prison, jail, and other corrections programs, such as probation and parole. The authors' combined corrections experience included such positions as General Counsel, Regional Counsel, and Correctional Program Officer, as well as working within corrections facilities. Their work involved advising corrections staff and management on the legal issues associated with policies and procedures. The authors also have extensive teaching experience in corrections law, the criminal justice system, and criminology. The benefits of such experiences are reflected in the comprehensive coverage of topics in this accessible and updated Third Edition.New to the Third Edition:-All cases and statistical information has been thoroughly updated.-Contains many new photos and figures throughout-New sections include: *Inmates and the News Media *Religious Land and Institutionalized Persons *Double Jeopardy *DNA Collection *Searches of Non-Inmates *Legal Challenges to the Method of Execution *Standards of Employee Conduct *Fair Labor Standards Act *Portal-to-Portal Act *Title VIII and Inmate Created Hostile Work Environment *The American with Disabilities Act *Death Penalty for Juvenile OffendersKey Features:-Includes engaging real-world examples of common problems and occurrences in corrections to provide students and practitioners with a good understanding of the legal aspects of corrections management.-Provides insight into the legal steps that should be anticipated in a correctional lawsuit.-Provides an accessible and easy-to-understand collection of Supreme Court and significant lower court rulings on key issues in corrections. With the focus on Supreme Court cases, the text has applicability nationwide.-Focuses on constitutional issues affecting such areas as inmate correspondence, visiting, and religion (First Amendment); search and seizure, privacy (Fourth Amendment); due process (Fifth and Fourteenth Amendments); equal protection (Fourteenth Amendment); and the death penalty, conditions of confinement (cruel and unusual punishment), and health care (Eighth Amendment).-Includes coverage of statutory and administrative law, as well as chapters on probation and parole, jails, juveniles, privatization, and the loss of rights of convicted persons.-Includes examples of relevant documents, such as a civil complaint; a sample pre-sentence investigation; a listing of inmate rights and responsibilities; of misconduct charges; and of mission statements for departments of corrections.-Instructor resources include an Instructor's Manual, Test Bank, and PowerPoint Lecture Outlines.