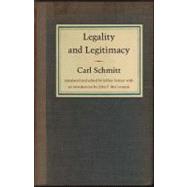 Note: Supplemental materials are not guaranteed with Rental or Used book purchases.
ISBN: 9780822331742 | 0822331748
Cover: Paperback
Copyright: 2/1/2004
Carl Schmitt ranks among the most original and controversial political thinkers of the twentieth century. His incisive criticisms of Enlightenment political thought and liberal political practice remain as shocking and significant today as when they first appeared in Weimar Germany. Unavailable in English until now,Legality and Legitimacywas composed in 1932, in the midst of the crisis that would lead to the collapse of the Weimar Republic and only a matter of months before Schmittrs"s collaboration with the Nazis. In this important work, Schmitt questions the political viability of liberal constitutionalism, parliamentary government, and the rule of law. Liberal governments, he argues, cannot respond effectively to challenges by radical groups like the Nazis or Communists. Only a presidential regime subject to few, if any, practical limitations can ensure domestic security in a highly pluralistic society.Legality and Legitimacyis sure to provide a compelling reference point in contemporary debates over the challenges facing constitutional democracies today. In addition to Jeffrey Seitzerrs"s translation of the 1932 text itself, this volume contains his translation of Schmittrs"s 1958 commentary on the work, extensive explanatory notes, and an appendix including selected articles of the Weimar constitution. John P. McCormickrs"s introduction placesLegality and Legitimacyin its historical context, clarifies some of the intricacies of the argument, and ultimately contests Schmittrs"s claims regarding the inherent weakness of parliamentarism, constitutionalism, and the rule of law.