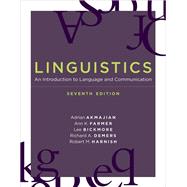 Note: Supplemental materials are not guaranteed with Rental or Used book purchases.
ISBN: 9780262533263 | 026253326X
Cover: Paperback
Copyright: 6/16/2017
The latest edition of a popular introductory linguistics text, now including a section on computational linguistics, new non-English examples, quizzes for each chapter, and additional special topics.
This popular introductory linguistics text is unique for its integration of themes. Rather than treat morphology, phonetics, phonology, syntax, and semantics as completely separate fields, the book shows how they interact. The authors provide a sound introduction to linguistic methodology, focusing on a set of linguistic concepts that are among the most fundamental within the field. By studying the topics in detail, students can get a feeling for how work in different areas of linguistics is done.
As in the last edition, part I covers the structural and interpretive parts of language—morphology, phonetics, phonology, syntax, semantics, variation, and change. Part II covers use and context of language and includes chapters on pragmatics, psychology of language, language acquisition, and language and the brain. This seventh edition has been extensively revised and updated; new material includes a chapter on computational linguistics (available in digital form and updated regularly to reflect the latest research in a rapidly developing field), more non-English examples, and a wide range of exercises, quizzes, and special topics.
The seventh edition of Linguistics includes access to a new, web-based eCourse and enhanced eTextbook. The content from the former print supplement A Linguistics Workbook is now available in this online eCourse as interactive exercises. The eCourse is available via the Rent eTextbook link at http://mitpress.mit.edu/linguistics7, and may be used on its own for self-study or integrated with instructor-led learning management systems.
The eCourse is a comprehensive, web-based eLearning solution. There is nothing to download or install; it is accessible through any modern web browser and most mobile devices. It features a singular new tool for building syntax trees, an IPA keyboard, a combination of auto-graded and essay questions, and classroom management tools. The enhanced eTextbook includes videos and flashcards and allows bookmarking, note-taking, highlighting, and annotation sharing.
Access to the eCourse is free with the purchase of a new textbook or e-book. New print copies of this book include a card affixed to the inside back cover with a unique access code for the eTextbook. If you purchased an e-book, you may obtain a unique access code by emailing digitalproducts-cs@mit.edu or calling 617-253-2889 or 800-207-8354 (toll-free in the U.S. and Canada). If you have a used copy of this book, you may purchase a digitally delivered access code separately via the Rent eTextbook link at http://mitpress.mit.edu/linguistics7.