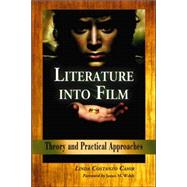 Note: Supplemental materials are not guaranteed with Rental or Used book purchases.
ISBN: 9780786425976 | 0786425970
Cover: Paperback
Copyright: 3/15/2006
For most people, film adaptation of literature can be summed up in one sentence: ?The movie wasn?t as good as the book.? This volume undertakes to show the reader that not only is this evaluation not always true but sometimes it is intrinsically unfair. Movies based on literary works, while often billed as adaptations, are more correctly termed translations. A director and his actors translate the story from the written page into a visual presentation. Depending on the form of the original text and the chosen method of translation, certain inherent difficulties and pitfalls are associated with this change of medium. So often our reception of a book-based movie has more to do with our expectations and reading of the literature than with the job that the movie production did or did not do. Avoiding these biases and fairly evaluating any particular literary-based film takes an awareness of certain factors. Written with a formalistic rather than historical approach, this work presents a comprehensive guide to literature-based films, establishing a contextual and theoretical basis to help the reader understand the relationships between such movies and the original texts as well as the reader?s own individual responses to these productions. To this end, it focuses on recognizing and appreciating the inherent difficulties encountered when basing a film on a literary work, be it a novel, novella, play or short story. Individual chapters deal with the specific issues and difficulties raised by each of these genres, providing an overview backed up by case studies of specific film translations. Films and literary works receiving this treatment include The Unbearable Lightness of Being, The Manchurian Candidate (1962), Lady Windemere?s Fan by Oscar Wilde and Shakespeare?s Henry V. Interspersed throughout the text are suggestions for activities the film student or buff can use to enhance his or her appreciation and understanding of the films. This volume also discusses the attributes of effective film translation, considers the rights and responsibilities?if any?owed to the parent text and explores the theoretical aspects of critical analysis, written or verbal, of such works. Appendices provide an aesthetic rubric; a sample decoupage and storyboard; and a list of Shakespeare?s plays translated to film. A glossary aids in understanding film and literary terms. Photographs and an index are also included.