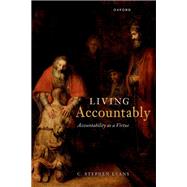 Note: Supplemental materials are not guaranteed with Rental or Used book purchases.
ISBN: 9780192898104 | 0192898108
Cover: Hardcover
Copyright: 3/20/2023
In contemporary culture, accountability is usually understood in terms of holding people who have done something wrong accountable for their actions. As such, it is virtually synonymous with punishing someone. Living Accountably argues that accountability should also be understood as a significant, forward-looking virtue, an excellence possessed by those who willingly embrace being accountable to those who have proper standing, when that standing is exercised appropriately. Those who have this virtue are people who strive to live accountably. The book gives a fine-grained description of the virtue and how it is exercised, including an account of the motivational profile of the one who has the virtue. It examines the relation of accountability to other virtues, such as honesty and humility, as well as opposing vices, such as self-deception, arrogance, and servility. Though the virtue of accountability is compatible with individual autonomy, recognizing the importance of the virtue does justice to the social character of human persons. C. Stephen Evans also explores the history of this virtue in other cultures and historical eras, providing evidence that the virtue is widely recognized, even if it is somewhat eclipsed in modern western societies.

Accountability is also a virtue that connects ethical life with religious life for many people, since it is common for people to have a sense that they are accountable in a global way for how they live their lives. Living Accountably explores the question as to whether global accountability can be understood in a purely secular way, as accountability to other humans, or whether it must be understood as accountability to God, or some other transcendent reality.