Living Theravada Demystifying the People, Places, and Practices of a Buddhist Tradition
, by
Schedneck, Brooke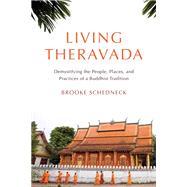 Note: Supplemental materials are not guaranteed with Rental or Used book purchases.
ISBN: 9781611809718 | 1611809711
Cover: Paperback
Copyright: 4/18/2023
An illuminating introduction to the contemporary world of Theravada Buddhism and its rich culture and practices in modern mainland Southeast Asia.

Theravada translates as "the way of the Elders," indicating that this Buddhist tradition considers itself to be the most authoritative and pure. Tracing all the way back to the time of the Buddha, Theravada Buddhism is distinguished by canonical literature preserved in the Pali language, beliefs, and practices—and this literature is often specialized and academic in tone. By contrast, this book will serve as a foundational and accessible resource on Theravada Buddhism and the contemporary, lived world of its enduring tradition.
Brooke Schedneck has done extensive research on topics such as religions of Southeast Asia, contemporary Buddhism, gender in Asian religions, and religious tourism. Narrowing in on topics such as temples, monastic lives, lay Buddhists, meditation, and Buddhist objects, Schedneck highlights the thriving diversity of Theravada Buddhists today. Exploring Theravada as a lived religion reveals how people apply various expressions in everyday life. She presents to readers the most important practices and beliefs of Theravada Buddhists, illustrated through contemporary debates about what represents proper Theravada practice within Cambodia, Myanmar, Laos, and Thailand in the twenty-first century. Additionally, practical information is provided in appendices about what temples and practice centers readers can visit as well as a temple etiquette guide offering tips for being a respectful visitor. While academics will benefit from and appreciate this overview, the writing offers a refreshing introduction to a complex tradition for readers new to the subject.