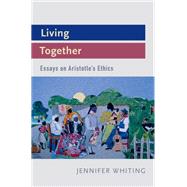 Note: Supplemental materials are not guaranteed with Rental or Used book purchases.
ISBN: 9780199969678 | 0199969671
Cover: Hardcover
Copyright: 8/29/2023
Living Together: Essays on Aristotle's Ethics is one of three volumes collecting previously published essays by Jennifer Whiting. This volume explores Aristotle's conception of eudaimonia, especially the roles played in it by the theoretical and practical activities central to human lives and by the quality of our relationships with one another.

Whiting explores Aristotle's struggle to reconcile the desirability of living in accordance with justice and other distinctively human virtues with the ideal of pursuing the "divine" life of contemplation. She focuses on Aristotle's attempts to reconcile his conception of eudaimonia as the ultimate end of human action with the parallel requirements that virtuous agents choose to engage in virtuous action "for itself" and that friends love their friends "for themselves". Drawing on her original reading of Aristotle's conception of the ideal friend as an "other self", Whiting challenges common readings of Aristotle's eudaimonism as a form of rational egoism. She stresses appreciation of the friend's character "for itself", and apart from any relationships in which it happens to stand to the agent's own needs and/or tastes, but calls attention to the important and often neglected role that Aristotle assigns to pleasure in this relationship. The ideal friend recognizes the va
friend's activity has for her friend and so takes pleasure in the friend's activity as such. This explains why the maximally self-sufficient (and so most godlike) agent, who needs nothing from a friend, will nevertheless choose to have at least one or two: she enjoys their company.