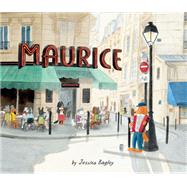 Note: Supplemental materials are not guaranteed with Rental or Used book purchases.
ISBN: 9781797211732 | 1797211730
Cover: Hardcover
Copyright: 5/9/2023
The winning personality of Corduroy meets the fable-like storytelling of Extra Yarn in this uplifting story about a dog and his music amidst a changing Paris.
Meet Maurice: a gifted canine who was born to share his songs with the world. Whether selling out the Palais Garnier or delighting Parisian pedestrians, music is Maurice's love language. But time and things change, and when the world stops paying attention, those notes fall flat. . . .  
This transcendent journey of one busking dog, who combines the power of inner strength and the gift of friendship to arrive at true self-discovery, is sure to inspire young dreamers and lift all souls in a stirring celebration of the world's inherent beauty, welcoming all who seek it.
As readers follow Maurice through good times and bad in this beautifully illustrated children's book, his story shows that there's light at the end of the tunnel and even when we feel like we're at our lowest, we still have the power to meaningfully contribute to the world.
PASSIONATE AND PRESENT: Maurice is a character who loves what he does, and the joy he gets from playing music allows him to appreciate the little things in life. Whether it's simply saying hello to a neighbor or reveling in the world around him, his character is present and ready with a smile, showing that if we can find it within ourselves to pursue what we love, what drives us, we are able to make the world a brighter place to be.   
PERENNIAL MESSAGE: Whether you're inside your home or listening to music echoing along the streets of Paris, the world can feel like a turbulent, chaotic place. This uplifting story shows that it's possible to weather great change and that even hard times eventually come to an end. 
GORGEOUS WATERCOLOR ARTWORK: Each page of this charming book set in Paris is awash with color and details to delight the eyes and the heart. Although he's a dog that plays the accordion, Maurice is a character almost everyone can recognize in the real world, and each scene reminds us how music like Maurice's scores city streets, parks, plazas, and markets. Readers young, old, and in between will love this fresh, deeply felt story about those members of society we may forget to appreciate despite their impact on us all.  
REASSURING MESSAGE: Inevitably in life, there are moments of loneliness and sadness. This story comforts young readers by showing them that, even when we feel alone and forgotten, there is always an audience and a community that will listen and accept us.  All we have to do is share ourselves with those around us.
Perfect for:
Dog lovers and music lovers
Parents and grandparents seeking kids' books about music, generosity, empathy, and community
Teachers and librarians to add to their picture book collection for toddler, preschool, and early readers
Fans of such classics as Madeline, The Story of Ferdinand, and Where the Wild Things Are