Menschenwurde Und Pflegerische Verantwortung: Zum Ethischen Eigengewicht Pflegebedurftiger Menschen Im Spannungsfeld Von Moralischem Standpunkt Und Moralischem Status
, by
Lanius, Frauke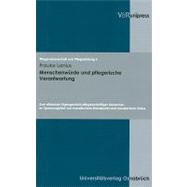 Note: Supplemental materials are not guaranteed with Rental or Used book purchases.
ISBN: 9783899716344 | 3899716345
Cover: Hardcover
Copyright: 10/1/2010
English summary: Considering the ethical standard, the asymmetry of the relationship between nurses and their patients demands a profound analysis of different concepts of rationality, personality and human dignity. This comparison of current concepts of philosophical ethics calls for an integrative solution, which acknowledges the fragility of life and reestablishes the symmetry in the nursing relationship. Only this acknowledgement of fragility enables nurses to treat their patients with genuine empathy, acknowledge their individuality and see their responsibility as an answer to the needs of their patients. In this book, the author engages in an interdisciplinary dialogue between applied nursing science and philosophical ethics. As a result, it shows that the separation of personality and moral rights is necessary to establish the moral weight of people in need of care in its own right. German description: Frauke Lanius nimmt das spezifische Element von Pflege in den Blick: Die Nahe zweier Menschen, und zwar die des pflegenden und die des zu pflegenden Menschen. Diese Beziehung ist charakterisiert von struktureller Asymmetrie. Im Hinblick auf ihre ethische Grundlegung erfordert sie eine tiefgreifende Auseinandersetzung mit verschiedenen Konzepten von Rationalitat, Person und Wurde. Der hier vorgenommene Vergleich einschlagiger aktueller Theorien der philosophischen Ethik fuhrt zu einer integrativen Losung, die uber die Freilegung und Anerkennung der Fragilitat des Daseins in eine Resymmetrisierung der Pflegebeziehung mundet. Erst diese Symmetrie lasst ein pflegerisches Begegnungshandeln zu, das sich an Empathie mit dem pflegebedurftigen Gegenuber, der Anerkennung seiner Andersartigkeit und der Verantwortung als Antwortlichkeit orientiert. Dieser Band tritt damit in den interdisziplinaren Dialog zwischen philosophischer Ethik und angewandter Pflegewissenschaft. Ergebnis ist, dass die Entkopplung von Personalitat und moralischen Schutzrechten notwendig ist, um dem spezifischen ethischen Eigengewicht gerade mental beeintrachtiger pflegebedurftiger Menschen gerecht zu werden.