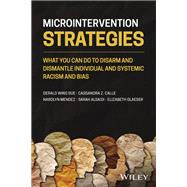 Note: Supplemental materials are not guaranteed with Rental or Used book purchases.
ISBN: 9781119769965 | 1119769965
Cover: Paperback
Copyright: 2/3/2021
Learn how you can help combat micro and macroaggressions against socially devalued groups with this authoritative new resource
Microintervention Strategies: What You Can Do to Disarm and Dismantle Indivdiual and Systemic Racism and Bias, delivers a cutting-edge exploration and extension of the concept of microinterventions to combat micro and macroaggressions targeted at marginalized groups in our society. While racial bias is the primary example used throughout the book, the author's approach is applicable to virtually all forms of bias and discrimination, including that directed at those with disabilities, LGBTQ people, women, and others.
The book calls out unfair and biased institutional policies and practices and presents strategies to help reduce the impact of sexism, heterosexism, ableism, and classism. It provides a new conceptual framework for distinguishing between the different categories of microinterventions, or individual anti-bias actions, and offers specific, concrete, and practical advice for taking a stand against micro and macroaggressions.
Microintervention Strategies delivers the knowledge and skills necessary to confront individual and institutional manifestations of oppression. Readers will also enjoy:

- A thorough introduction to the major conceptual distictions between micro and macroaggressions and an explanation of the manifestations, dynamics, and impact of bias on marginalized groups.

- An exploration of the meaning and definition of micorinterventions, including a categorization into three types: microaffirmations, micorprotections, and microchallenges.

- A review of literature that discusses the positive benefits that accrue to targets, allies, bystanders, and others when microinterventions take place.

- A discussion of major barriers to acting against prejudice and discrimination.
Perfect for undergraduate and graduate students taking courses in psychology, education, social work, and political science, Microintervention Strategies will also earn a place in the libraries of psychologists, educators, parents, and teachers, who hope to do their part to combat microaggressions and other forms of bias and discrimination.