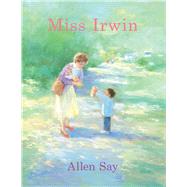 Note: Supplemental materials are not guaranteed with Rental or Used book purchases.
ISBN: 9781338300406 | 1338300407
Cover: Hardcover
Copyright: 4/18/2023
Miss Irwin is a luminous and heartwarming story about the importance of capturing the light of precious memories before all is forgotten, from Caldecott Medalist Allen Say.
As a young woman, Miss Irwin was a kindergarten teacher who loved introducing the world of discovery to her students. As a grandmother, she often reflects on her wonderful days exploring with her students. When her grandson asks her about a mysterious box on the shelf, she gets lost in memory and her mind transports her back in time to when she was Miss Irwin. At first her grandson is confused, but remembers his grandmother's forgetfulness and plays along as the student who made the bird's nest inside the white box.
Allen Say's breathtaking artwork and emotionally powerful and thoughtful text gently weave a touching story about memory and family. Together, the grandmother and grandson rejoice in the meaning and beauty of memory before all is lost.
Miss Irwin helps readers of all ages better understand and interact with loved ones who are experiencing memory loss.
AUTHOR'S NOTE
The teachers I loved and admired are figures of light in my memory. Miss Irwin is especially luminous. She was my daughter's kindergarten teacher. The children's words and drawings and dancing made her blush with excitement. And by trying to keep her blushing, the children learned the astonishment of discovering.
I hope she will forgive me for casting her as a forgetful grandmother in this story -- it's an attempt to capture her light before all is forgotten. -- Allen Say
Alzheimer's changes the lives of everyone it touches.? You are not alone.
When a friend or family member has Alzheimer's disease, you may feel upset, confused or scared. Some people with early-stage Alzheimer's may forget words or not remember your name from time to time. But, when you spend time with people with late-stage Alzheimer's, it is easy to see that something serious is going on. People with Alzheimer's disease are not acting like this because they don't care about you. Changes deep inside their brains are destroying the centers that control remembering, thinking, and feeling. Learning about Alzheimer's disease can help you understand what to expect and how to connect with the person you care about. -- Alzheimer's Association