Missions Accomplished? The United States and Iraq Since World War I
, by
Hahn, Peter L.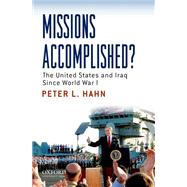 Note: Supplemental materials are not guaranteed with Rental or Used book purchases.
ISBN: 9780195333381 | 0195333381
Cover: Paperback
Copyright: 10/13/2011
Since 2003, Iraq has posed one of the most daunting foreign policy challenges facing the United States. President George W. Bush's decision to wage a preemptive war against Iraqi Premier Saddam Hussein resulted in a smashing U.S. military victory and the overthrow of Hussein. The U.S. battlefield victory soon gave way, however, to a prolonged and costly occupation, a consequence of poor postwar planning by officials in Washington and unintended and unexpected repercussions of Hussein's downfall. Since 2003, Iraq dominated the thinking of policymakers in Washington who were responsible for safeguarding U.S. interests in the volatile Middle East. Despite the centrality that Iraq occupies in modern American diplomacy, there is relatively little scholarly literature on the topic. Author Peter L. Hahn, author ofCrisis and Crossfire: The United States and the Middle East since 1945(Potomac Books, Inc, 2005), is the first to synthesize the entire complicated, power-driven relationship between the United States and Iraq over the last 70 years.Missions Accomplished?takes a straightforward, chronological approach, emphasizing the formulation of U.S. policy toward Iraq in its political, strategic, and military dimensions while paying careful attention to the context of the political situation in Baghdad; regional developments including the Arab-Israeli conflict, intra-Arab rivalries, and Iraqi-Iranian tensions; and global dynamics such as decolonization and the Cold War. Hahn boldly identifies the key players in Washington and Baghdad, evaluating the successes of every mission and policymaker in the history of the United States-Iraq relationship. Hahn incorporates insights from books on the military aspects of the Persian Gulf War of 1990-91 and declassified documents on the political and military dimensions of the Iraq War of 2003 into a balanced and nuanced discussion of recent and current events, supplemented with lavish illustrations and maps, colorful vignettes of Americans who experienced Iraq first-hand and, above all, a discussion that remains mindful of deep historical antecedents. Message: Missions Accomplished?is the first synthesis on U.S.-Iraqi relations from the origins of Iraq to the present day.