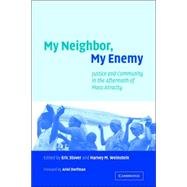 Note: Supplemental materials are not guaranteed with Rental or Used book purchases.
ISBN: 9780521542647 | 0521542642
Cover: Paperback
Copyright: 12/20/2004
Tackling the crucial issue of our day--the rebuilding of countries following ethnic cleansing and genocide, this book evaluates the role of trials and tribunals with regard to social reconstruction and reconciliation. The voices of the people of Rwanda and Yugoslavia are heard through the results of extensive surveys and recorded conversations. Their thoughts of past and future controversially conclude that international and local trials have little relevance to reconciliation. The contributors find that communities interpret justice far more broadly than defined by the international community and the relationship of trauma to a desire for trials is not clear-cut. An ecological model of social reconstruction is proposed, suggesting that coordinated multi-systematic strategies must be implemented if social repair is to occur. Finally, the contributors suggest that, while trials are essential to combat impunity and punish the guilty, their strengths and limitations must be acknowledged. Eric Stover is Director of the Human Rights Center and Adjunct Professor of Public Health at the University of California, Berkeley. He was the Executive Director of Physicians for Human Rights (PHR) until December 1995. He has served on several investigations as an "Expert on Mission" to the International Criminal Tribunal for the former Yugoslavia in the Hague. He is author of (with photographer Gilles Peress) The Graves: Srebrenica and Vukovar (Scalo Verlag Ac, 1998), War Crimes in the Balkans: Medicine Under Siege in the former Yugoslavia 1991-1995 (Physicians for Human Rights, 1996), Landmines: A Deadly Legacy (Physicians for Human Rights, 1993) and co-author (with Christopher Joyce) of Witnesses from the Grave (Little Brown, 1992) and The Breaking of Bodies and Minds: Torture, Psychiatric Abuse, and the Health Professions (W.H. Freeman & Co., 1985) Harvey M. Weinstein is Clinical Professor in the Joint Medical Program at the University of California, Berkeley. He has done research in and taught health and human rights, refugee health and mass violence and social reconstruction. Weinstein is a member of the Advisory Council of the State Refugee Health Program, and the International Human Rights Committee and the Caucus on Refugees and Immigrants of the American Public Health Association.