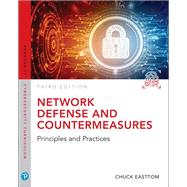 Note: Supplemental materials are not guaranteed with Rental or Used book purchases.
ISBN: 9780789759962 | 0789759969
Cover: Paperback
Copyright: 4/16/2018
All you need to know about defending networks, in one book
· Clearly explains concepts, terminology, challenges, tools, and skills
· Covers key security standards and models for business and government
· The perfect introduction for all network/computer security professionals and students
Welcome to today's most useful and practical introduction to defending modern networks. Drawing on decades of experience, Chuck Easttom brings together updated coverage of all the concepts, terminology, techniques, and solutions you'll need to be effective.
Easttom thoroughly introduces the core technologies of modern network security, including firewalls, intrusion-detection systems, and VPNs. Next, he shows how encryption can be used to safeguard data as it moves across networks.
You'll learn how to harden operating systems, defend against malware and network attacks, establish robust security policies, and assess network security using industry-leading standards and models. You'll also find thorough coverage of key issues such as physical security, forensics, and cyberterrorism.
Throughout, Easttom blends theory and application, helping you understand both what to do and why. In every chapter, quizzes, exercises, projects, and web resources deepen your understanding and help you use what you've learned–in the classroom and in your career.
Learn How To
· Evaluate key network risks and dangers
· Choose the right network security approach for your organization
· Anticipate and counter widespread network attacks, including those based on "social engineering"
· Successfully deploy and apply firewalls and intrusion detection systems
· Secure network communication with virtual private networks
· Protect data with cryptographic public/private key systems, digital signatures, and certificates
· Defend against malware, including ransomware, Trojan horses, and spyware
· Harden operating systems and keep their security up to date
· Define and implement security policies that reduce risk
· Explore leading security standards and models, including ISO and NIST standards
· Prepare for an investigation if your network has been attacked
· &nb