Neuroinflammation in Neuronal Death and Repair
, by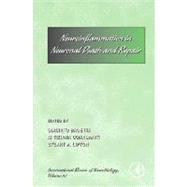 Note: Supplemental materials are not guaranteed with Rental or Used book purchases.
ISBN: 9780123739896 | 0123739896
Cover: Hardcover
Copyright: 7/25/2007
Neuroinflammation has been implicated recently in the pathogenesis of many neurodegenerative diseases. The cross-talk between neurons and non-neuronal cells seems to be a critical step in the progression of neurodegeneration and molecules that have a beneficial role may turn into harmful players. Thus, matrix metalloproteinases (MMPs), which are involved in axonal growth and regeneration as well as synaptic plasticity, may also have detrimental effects. Recent evidence has linked MMPs to conditions like ischemia, multiple sclerosis, Alzheimer's disease and suggested that, together with their role in the degradation of extracellular macromolecules, MMPs could work as important signalling molecules from injured neurons to the microglia. Thus, MMP-3 has been shown to induce the release of pro-inflammatory cytokines from microglia via activation of ERK and NF-kB-dependent pathways. Increasing evidence highlights the importance of a balanced cross-talk between neurons and non-neuronal cells and indicates that the presence of reactive astrocytes, the activation of microglia and the release of inflammatory mediators may contribute to the progression of many central nervous system disorders, independently of the nature of the primary pathogenic event. However, many aspects still remain controversial and much more effort is needed to understand the role of neuroinflammatory mediators and processes in these conditions. This volume brings together renowned, international scientists to discuss current knowledge and views on the mechanisms of neuroinflammation, on its role in the context of different neurodegenerative diseases (i.e. Alzheimer's, prion disease, HIV-associated dementia, multiple sclerosis, pain) and on the potential approaches for future therapeutic strategies.