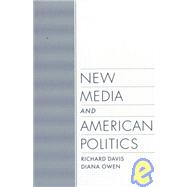 Note: Supplemental materials are not guaranteed with Rental or Used book purchases.
ISBN: 9780195120615 | 0195120612
Cover: Paperback
Copyright: 5/28/1998
We are all familiar with the political side of the new media: presidentialcandidates appear in "electronic town meetings"; talk show hosts like RushLimbaugh and G. Gordon Liddy lead dedicated bands of followers; Bill Clintonplays his saxophone on "Arsenio"; tabloids break the Dick Morris story.Traditional sources of information on American politics are increasingly beingdisplaced. New Media and American Politics is the first survey by politicalscientists of this recent and still-emerging phenomenon.The book is broadly cast to cover talk radio and television, tabloid journalismboth in print and on television, entertainment media, and computer networks. Howdo the new media differ from the traditional media? How much can the new mediaalter the content of American politics, how issues are raised, discussed, andresolved? Who and how large is the audience? The authors address each of thesequestions, but more importantly they provide a framework for further examinationof the new media's overall impact on politics. The first of its kind, this bookwill appeal to political scientists, journalists, scholars and students ofCommunications, and general readers interested in how new technologies arechanging our political system.