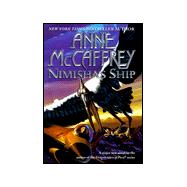 Note: Supplemental materials are not guaranteed with Rental or Used book purchases.
ISBN: 9780345388254 | 0345388259
Cover: Hardcover
Copyright: 2/1/1999
When it comes to sheer imagination and storytelling prowess, Anne McCaffrey is in a class by herself. Few writers have created characters more deeply loved or futures more intensely lived. For more than thirty years, she has reigned as one of the premier talents in science fiction and fantasy, flying above the crowd on the glittering wings of such masterworks as The Dragonriders of Pern and Crystal Singer. Now, McCaffrey soars to dizzying unscaled heights in an exciting new world bursting with adventure and romance . . . On Vega III, where the jaded inhabitants pursue lives of malicious intrigue and decadent pleasure, Lady Nimisha Boynton-Rondymense has always been an anomaly. Disdainful of the frivolity of her fellows, she prefers the exciting and challenging world of her father, Lord Tionel, owner and principal starship designer of the famous Rondymense shipyards. Precociously gifted, Nimisha becomes Lord Tionel's secret assistant--and, in the aftermath of a shocking tragedy, his chosen successor at the helm of the shipyards. But supplanting her father's designated body-heir, the callow Lord Vestrin, is a slight that Vestrin and his mother, Lady Vescuya, will not easily forget. Or forgive. Preoccupied with carrying on her father's ambitious plans for the Mark 5, an experimental long-distance cruiser, Nimisha dangerously disregards Vestrin's animosity--until a solo test flight of the Mark 5 goes horribly awry, marooning Nimisha light-years from home on a planet as deadly as it is beautiful. Now, Vestrin and Vescuya are given the chance they've been waiting for: to reclaim the shipyards . . . by any means necessary. Only Nimisha's child, Cuiva--a girl every bit as ingenious as her mother--stands in their way. But for how long? For just when her daughter needs her most, Nimisha is unable to help--and in a precarious situation herself. But Nimisha has never given up in her life--and she's not about to start now . . . From the Hardcover edition.