Once a Warrior, Always a Warrior : Navigating the Transition from Combat to Home--Including Combat Stress, PTSD, and MTBI
, by
Hoge, Charles W.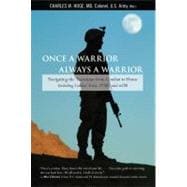 Note: Supplemental materials are not guaranteed with Rental or Used book purchases.
ISBN: 9780762754427 | 0762754427
Cover: Paperback
Copyright: 2/23/2010
The essential handbook for anyone who has ever returned from a war zone, and their spouse, partner, or family members Being back home can be as difficult, if not more so, than the time spent serving in a combat zone. It's with this truth that Colonel Charles W. Hoge, MD, a leading advocate for eliminating the stigma of mental health care, presentsOnce a WarriorAlways a Warrior,a groundbreaking resource with essential new insights for anyone who has ever returned home from a war zone. In clear practical language, Dr. Hoge explores the latest knowledge in combat stress, PTSD (post-traumatic stress disorder), mTBI (mild traumatic brain injury), other physiological reactions to war, and their treatment options. Recognizing that warriors and family members both change during deployment, he helps them better understand each other's experience, especially living with enduring survival skills from the combat environment that are often viewed as "symptoms" back home. The heart of this book focuses on what's necessary to successfullynavigatethe transition"LANDNAV" for the home front. Once a WarriorAlways a Warriorshows how a warrior's knowledge and skills are vital for living at peace in an insane world. *** "There's combat. Then, there's the rest of your life. . . . This is the guide to surviving the war back here. We all need it. A hell of a book." Max Cleland, former U.S. Senator and VA Administrator, wounded Vietnam combat veteran "I've never met a mental health professional who 'gets it' as well as Colonel Charles Hoge. He's done the research, he's been shoulder-to-shoulder with warriors, and he's woven it together in language that is real and resonant.Once a WarriorAlways a Warrioris a vital handbook for every leader, and it is a survival book for warriors-come-home." Nate Self, former Army Ranger Captain, author ofTwo Wars: One Hero's Fight on Two FrontsAbroad and Within "