The Oxford History of British and Irish Catholicism, Volume III Relief, Revolution, and Revival, 1746-1829
, by
Chambers, Liam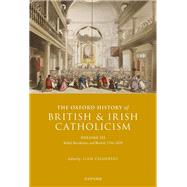 Note: Supplemental materials are not guaranteed with Rental or Used book purchases.
ISBN: 9780198843443 | 0198843445
Cover: Hardcover
Copyright: 1/1/2024
The third volume of The Oxford History of British and Irish Catholicism examines the period from the defeat of the Jacobite army at the battle of Culloden in 1746 to the enactment of Catholic emancipation in 1829.

The first part of the volume offers a chronological overview tracing the decline of Jacobitism, the easing of penal legislation which targeted Catholics, the complex impact of the French Revolution, the debates about the place of Catholics in the post-Union state, and - following the mass mobilisation of Irish Catholics - the passage of emancipation. The second part of the volume shows that this political history can only be properly understood with reference to the broader transformations that occurred in the later eighteenth and early nineteenth centuries. The period witnessed the expansion of Catholic infrastructure (pastoral structures, chapel building, elementary education and finances) and changes in Catholic practice, for example in liturgy and devotion. The growing infrastructure and more public profession of Catholicism occurred in a society where anti-Catholicism remained a force, but the volume also addresses the accommodations and interactions with non-Catholics that attended daily life. Crucially, the transformations of this period were international, as well as national.

The volume examines the British and Irish convents, colleges, friaries and monasteries on the continent, especially during the events of the 1790s when many institutions closed and successor or new ones emerged at home. The international dimensions of British and Irish Catholicism extended beyond Europe too as the British Empire expanded globally, and attention is given to the involvement of British and Irish Catholics in imperial expansion. This volume addresses the literary, intellectual and cultural expressions of Catholicism in Britain and Ireland. Catholics produced a rich literature in English, Irish, Scots Gaelic and Welsh, although the volume shows the disparities in provision. They also engaged with and participated in the Catholic Enlightenment, particularly as they grappled with the challenges of accommodation to a Protestant constitution. This also had consequences for the public expression of Catholicism and the volume concludes by exploring the shifting expression of belief through music and material culture.