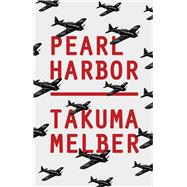 Note: Supplemental materials are not guaranteed with Rental or Used book purchases.
ISBN: 9781509537204 | 1509537201
Cover: Hardcover
Copyright: 11/23/2020
Hawaii, 7th December 1941, shortly before 8 in the morning: Japanese torpedo bombers launch a surprise attack on the US Pacific fleet anchored in Pearl Harbor. The devastating attack claims the lives of over 2,400 American soldiers, sinks or damages 18 ships and destroys nearly 350 aircraft. The US Congress declares war on Japan the following day.

In this vivid and lively book, Takuma Melber breathes new life into the dramatic events that unfolded before, during and after Pearl Harbor by putting the perspective of the Japanese attackers at the centre of his account. This is the dimension commonly missing in most other histories of Pearl Harbor, and it gives Melber the opportunity to provide a fuller, more definitive and authoritative account of the battle, its background and its consequences. Melber sheds new light on the long negotiations that went on between the Japanese and Americans in 1941, and the confusion and argument among the Japanese political and military elite. He shows how US intelligence and military leaders in Washington failed to interpret correctly the information they had and to draw the necessary conclusions about the Japanese war intentions in advance of the attack. His account of the battle itself is informed by the latest research and benefits from including the planning and post-raid assessment by the Japanese commanders. His account also covers the second raid in March 1942 by two long-range seaplanes which was intended to destroy the shipyards so that ships damaged in the initial attack could not be repaired.

This balanced and thoroughly researched book deepens our understanding of the battle that precipitated America's entry into the war and it will appeal to anyone interested in World War II and military history.