Piranesi's Candelabra and the Presence of the Past Excessive Objects and the Emergence of a Style in the Age of Neoclassicism
, by
van Eck, Caroline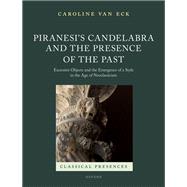 Note: Supplemental materials are not guaranteed with Rental or Used book purchases.
ISBN: 9780192845665 | 0192845667
Cover: Hardcover
Copyright: 5/16/2023
Near the end of his life, Giovanni Battista Piranesi (1720-78) created three colossal candelabra mainly from fragments of sculpture excavated near the Villa Hadriana in Tivoli, two of which are now in the Ashmolean Museum, and one in the Louvre. Although they were among the most sought-after and prestigious of his works, and fetched enormous prices during Piranesi's life, they suffered a steep decline in appreciation from the 1820s onwards, and even today they are among the least studied of his works. Piranesi's Candelabra and the Presence of the Past uncovers the intense investment, by artists, patrons, collectors, and the public around the start of the nineteenth century in objects that made Graeco-Roman Antiquity present again. Caroline van Eck's study examines how objects make their makers or viewers feel that they are again in the presence of Antiquity, that not only Antiquity has revived, but that classical statues become alive under their gaze. what it takes to make such
objects, and what it costs to own them; and about the ramifications of such intense if not excessive attachments to artefacts. This book considers the three candelabra in depth, providing the biography of these objects, from the excavation of the Roman fragments to their entry into private and public collection. Van Eck considers the context that Piranesi gave them by including them in his Vasi, Candelabri e Cippi (1778), to rethink the processes that led to the development of neoclassicism from the perspective of the objects and objectscapes that came into being in Rome at the end of the eighteenth century.