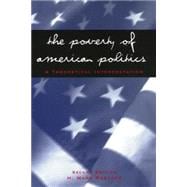 Note: Supplemental materials are not guaranteed with Rental or Used book purchases.
ISBN: 9781566396066 | 1566396069
Cover: Paperback
Copyright: 5/14/1998
In this forceful and original work in American political philosophy, H. Mark Roelofs challenges America's complacency about its politics. He maintains that the theoretical design of the American political system is inherently flawed. He sees the system as essentially split between its social democratic, egalitarian, legitimizing self-image and its liberal democratic, elitist, operational practice. Neither of these aspects of the system is politically productive beyond its immediate functions. Roelofs's devastating and closely reasoned critique traces our nation's political ills to fundamental flaws in the very design of its founding principles, the character of its major institutions, and the basic patterns of its processes. Roelofs traces the contradictions in our political culture to American adaptations of a profoundly religious, mostly Protestant individualism and a secular Bourgeois individualism rooted in Hobbes and Locke. The clashes between these perspectives in the political system's institutional processes brew, according to the author, "generous portions of bombast and hypocrisy, inefficiency and corruption, and all too often, violence in one form or another". He demonstrates why, with our present political structure, there is no possibility of achieving our goals. The system's ultimate poverty, he argues, is its congenital inability to comprehend, let alone reform, itself. No other book has viewed the ills of American politics so comprehensively or traced their sources so insistently to the system's theoretical design, to the character of its founding principles, and to the nature of its major institutions. With the Bicentennial of the Constitution as well as the recentcollapse of Eastern European communism, many Americans are proudly proclaiming that their system of government works, despite its obvious contradictions, chaos, and corruption. Roelofs lucidly but pessimistically contends that, unless the system is fundamentally and completely reformed, it will continue to breed hypocrisy and inefficiency, violence and military adventurism, and a systematically impoverished democratic politics.