Promise of Sleep : A Pioneer in Sleep Medicine Explores the Vital Connection Between Health, Happiness, and a Good Night's Sleep
, by
DEMENT, WILLIAM C.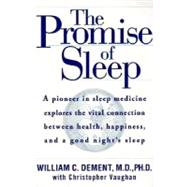 Note: Supplemental materials are not guaranteed with Rental or Used book purchases.
ISBN: 9780385320085 | 0385320086
Cover: Hardcover
Copyright: 3/1/1999
Healthy sleep has been proven to be the single most important determinant in predicting longevity-more influential than diet, exercise or heredity-but our modern culture has become a study in sleep deprivation. Technology's world without darkness wreaks havoc on our body clocks. We sacrifice sleep to meet the demands of our endless days. Our doctors regard sleep deprivation as a fact of life-and do little to promote sleep health or awareness. Meanwhile, the physical, emotional and psychological costs of our unhealthy sleep life continue to mount, largely without mention. InThe Promise of Sleep,world-renowned sleep authority William C. Dement, M.D., offers the definitive look into this unexplored but vital part of our lives, giving readers the information they need to reclaim their birthright to a good night's sleep. Drawing on his decades of experience on the frontiers of sleep science, Dr. Dement explains what happens when we sleep, taking readers on a remarkably lively tour of the sleeping body and mind. We learn of sleep's surprisingly powerful effect on our overall health, from our immune system to our psychological well-being, and see first-hand the many ways in which sleep loss and sleep deprivation can put us in harm's way, inhibit our motivation and creativity, and rob us of the vitality that makes life worth living. And he shows how the sleep awareness to be gained from such insight can be our society's most powerful weapon to combat the sleep deprivation epidemic that costs untold lives and resources each year. Sharing wisdom gained through years of sleep lab experience, Dr. Dement gives hands-on advice on how to get the sleep we need, addressing such popular topics as: sleep disorders and their cures; the role of prescription and over-the-counter sleeping aids; recovery from jet lag and other temporary obstacles to a healthy sleep life; the power of naps; and more. He also offers his seven principles of healthy sleep, and tells readers how they can discover their own "sleep point" and learn how much sleep they truly need. As insightful asListening to Prozac,inspiring asSpontaneous Healing,and empowering asThe Gift of Fear, The Promise of Sleepilluminates the little-understood "forgotten third" of our lives, and gives us the tools we need to unlock its abundant gifts for the rest of our lives.