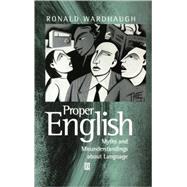 Note: Supplemental materials are not guaranteed with Rental or Used book purchases.
ISBN: 9780631212683 | 063121268X
Cover: Hardcover
Copyright: 1/5/1999
What is it about our country and our society that our language has become so impoverished, so sloppy and so limited? The Prince of Wales, 1989 This is a good time to explore error in English usage. There is a lot of it about. Harry Blamires The subject matter of English Philology possesses a strange fascination for the man in the street, but almost everything he thinks and says about it is incredibly and hopelessly wrong. H. C. Wyld, 1921 Most of us have firm convictions about our language, as to what constitutes proper use and what is unacceptable abuse. As children we are taught a great deal about good and bad grammar, correct pronunciation and spelling, and the proper use of words. As adults we constantly encounter books, articles, and letters to newspapers opining about proper English and the sorry state of our language. Yet many statements we believe to be true about language are likely as not false. Much of what we have learnt about language is misdirected; little of it is useful and some may be harmful. Myths and misunderstandings are plentiful. Much that passes for insight and informed comment is palpably wrong. This books explores why it is we believe what we believe about language, and why we persist in handing down from generation to generation a rag bag collection of fact and fantasy about language. It offers a corrective to many of the unsupportable beliefs we hold about language in general and English in particular. It shows how these beliefs originated and offers suggestions for a more enlightened approach.