Proving the Unprovable The Role of Law, Science, and Speculation in Adjudicating Culpability and Dangerousness
, by
Slobogin, Christopher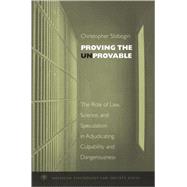 Note: Supplemental materials are not guaranteed with Rental or Used book purchases.
ISBN: 9780195189957 | 0195189957
Cover: Hardcover
Copyright: 9/7/2006
It is hard enough in many cases simply figuring out whether a person has committed an antisocial act. It is harder still to determine the extent to which he or she intended the act, and why he or she committed it. And most difficult of all is divining whether a person will harm again. The law has increasingly turned to mental health professionals to help address these issues, particularly the last two. Because of their familiarity with and study of human behavior, psychiatrists, psychologists and other clinicians are thought to possess special expertise in assessing culpability and dangerousness. Members of these groups routinely furnish the courts with evaluations of insanity and other mental state at the time of the offense, and even more frequently proffer predictions about future behavior. Both culpability and dangerousness are exceedingly difficult to gauge; even mental health professionals well-versed in the behavioral sciences cannot claim a high degree of reliability in their efforts to address these issues. Though the current trend in evidence law is to demand a rigorous demonstration of scientific validity from expert witnesses, especially when those experts are mental health professionals proffered by the defense, this book argues that this is a mistake. Such a position undermines the fairness of the process and could quite possibly even diminish its reliability, given the defense's constitutional entitlement to tell its story and the inscrutability of past and future mental states. At the same time, Professor Slobogin proposes a number of ways the courts can ensure that experts provide the best possible information about ultimately unknowable past mental states and future behavior.