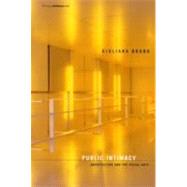 Note: Supplemental materials are not guaranteed with Rental or Used book purchases.
ISBN: 9780262524650 | 0262524651
Cover: Paperback
Copyright: 3/16/2007
In his thoughtful collection of essays on the relationship of architecture and the arts, Giuliana Bruno addresses the crucial role that architecture plays in the production of art and the making of public intimacy. As art melts into spatial construction and architecture mobilizes artistic vision, Bruno argues, a new moving space--a screen of vital cultural memory--has come to shape our visual culture. Taking on the central topic of museum culture, Bruno leads the reader on a series of architectural promenades from modernity to our times. Through these "museum walks," she demonstrates how artistic collection has become a culture of recollection, and examines the public space of the pavilion as reinvented in the moving-image art installation of Turner Prize nominees Jane and Louise Wilson. Investigating the intersection of science and art, Bruno looks at our cultural obsession with techniques of imaging and its effect on the privacy of bodies and space. She finds in the work of artist Rebecca Horn a notable combination of the artistic and the scientific that creates an architecture of public intimacy. Considering the role of architecture in contemporary art that refashions our "lived space"--and the work of contemporary artists including Rachel Whiteread, Mona Hatoum, and Guillermo Kuitca--Bruno argues that architecture is used to define the frame of memory, the border of public and private space, and the permeability of exterior and interior space. Architecture, Bruno contends, is not merely a matter of space, but an art of time.