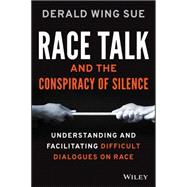 Note: Supplemental materials are not guaranteed with Rental or Used book purchases.
ISBN: 9781119241980 | 1119241987
Cover: Paperback
Copyright: 2/1/2016
Turn Uncomfortable Conversations into Meaningful Dialogue
If you believe that talking about race is impolite, or that "colorblindness" is the preferred approach, you must read this book. Race Talk and the Conspiracy of Silence debunks the most pervasive myths using evidence, easy-to-understand examples, and practical tools.
This significant work answers all your questions about discussing race by covering:
Characteristics of typical, unproductive conversations on race
Tacit and explicit social rules related to talking about racial issues
Race-specific difficulties and misconceptions regarding race talk
Concrete advice for educators and parents on approaching race in a new way
"His insistence on the need to press through resistance to have difficult conversations about race is a helpful corrective for a society that prefers to remain silent about these issues."
—Christopher Wells, Vice President for Student Life at DePauw University
"In a Canadian context, the work of Dr. Derald Wing Sue in Race Talk: and the Conspiracy of Silence is the type of material needed to engage a populace that is often described as 'Too Polite.' The accessible material lets individuals engage in difficult conversations about race and racism in ways that make the uncomfortable topics less threatening, resulting in a true 'dialogue' rather than a debate."
—Darrell Bowden, M Ed. Education and Awareness Coordinator, Ryerson University
"He offers those of us who work in the Diversity and Inclusion space practical tools for generating productive dialogues that transcend the limiting constraints of assumptions about race and identity."
—Rania Sanford, Ed.D. Associate Chancellor for Strategic Affairs and Diversity, Stanford University
"Sue's book is a must-read for any parent, teacher, professor, practioner, trainer, and facilitator who seeks to learn, understand, and advance difficult dialogues about issues of race in classrooms, workplaces, and boardrooms. It is a book of empowerment for activists, allies, or advocates who want to be instruments of change and to help move America from silence and inaction to discussion, engagement, and action on issues of difference and diversity. Integrating real life examples of difficult dialogues that incorporate the range of human emotions, Sue provides a masterful illustration of the complexities of dialogues about race in America. More importantly, he provides a toolkit for those who seek to undertake the courageous journey of understanding and facilitating difficult conversations about race."
—Menah Pratt-Clarke, JD, PhD, Associate Provost for Diversity, University of Illinois Urbana-Champaign