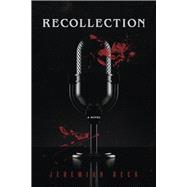 Note: Supplemental materials are not guaranteed with Rental or Used book purchases.
ISBN: 9781667899138 | 1667899139
Cover: Paperback
Copyright: 8/22/2023
What if you had a perfect memory…

But every terrible thing you've seen, said and done was seared in your mind, never to be forgotten?

Recollection delves into the cursed life of DC radio talk show host Jeremy Peoples at the start of a New Year's Eve broadcast. Jeremy is tormented by his autobiographical memory, precisely recording every second of his existence and uncontrollably replaying his worst moments when triggered. Seven years after a killing spree at his small town school left him shattered and scarred, Jeremy's recollections are an unfading flood of vivid violence and lost love that forever feel like they only just happened.

And he's willing to do anything to forget.

Jeremy—convinced he caused the murder of his girlfriend and six others—confesses during a harrowing on-air interview he's orchestrated with the shooter. However, with closure and forgiveness seemingly within his grasp…

…a caller with a shocking revelation lures him home to Wisconsin, and once again, back into danger.

Recollection descends with Jeremy, spiraling out of control, ensnarled by devious drug dealers, scrambling across the country to confront his past sins. Grasping for redemption, will he instead succumb to addiction, memories more real than the present, and the consequences of his betrayals?

In his debut novel, Recollection, Jeremiah Beck defies conventions to create a profound, twisty and heart-rending work of fiction fraught with claustrophobic suspense. Beck proves himself a stylish storyteller, assembling a rogue's gallery of characters, internal dialogue, gritty situations and thought-provoking conversations that challenge our views on forgiveness, atonement, faith, trauma, and fate.

Inspired by A Prayer for Owen Meany by John Irving, Recollection is for fans of slow-burn psychological thrillers like Dennis Lehane's Mystic River and Gillian Flynn's Sharp Objects, contemporary fiction like The Hour I First Believed by Wally Lamb, and anyone who likes their historical fiction set in the 1990's.

Warning: This story contains content that may be troubling to some readers, including—but not limited to—depictions of attempted suicide, drug and alcohol abuse, vulgar and insensitive language, bullying, a mass casualty event, PTSD, sexual content and vivid nightmare imagery. Please be mindful of these and other possible triggers contained within this work of fiction.