Relationship Conflict : Conflict in Parent-Child, Friendship, and Romantic Relationships
, by
Daniel J. Canary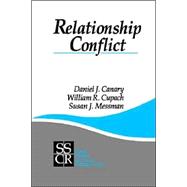 Note: Supplemental materials are not guaranteed with Rental or Used book purchases.
ISBN: 9780803951303 | 0803951302
Cover: Paperback
Copyright: 8/23/1995
"Relationship Conflict is an excellent contribution in the tradition of Sage's series on close relationships. Like the other books in this series, Relationship Conflict provides a concise and compelling synthesis of research and thinking on a particular aspect of intimate relationships. In this case, Daniel J. Canary, William R. Cupach, and Susan J. Messman provide an accounting of conflict of text. As such, this volume constitutes the perfect companion text to undergraduate courses on interpersonal conflict. The clarification of definitions of conflict and approaches to studying conflict in chapter one is a particularly useful framework for organizing the wealth of research on relationship conflict. Similarly, the review of methods for studying conflict in chapter two is a concise assessment of the pros and cons of different methodologies. The remaining chapters nicely synthesize research illuminating conflict in parent-child, friendship, dating, and marital relationship contexts. The consistent limitation in traditional textbooks for the undergraduate course in interpersonal conflict is a failure to include a review of research on conflict in different relationship contexts; Relationship Conflict fills that gap and quite satisfactorily." --Denise H. Cloven in Personal Relationship Issues "The theories, research, analysis, and conclusions will interest a wide range of readers in communication, family studies, psychology, and sociology. Graduate through professional." --Choice "This is an excellent book which should be read by all those in the business of helping couples in their relationships. I can also see a clear role for parts of this book... as providing the basic reading for training seminars." --Padmal de Silva in Sexual and Marital Therapy "My favorite features of the book are the inclusion of different types of relationships and a developmental perspective on relationship conflict. . . . Relationship Conflict provides an easily readable overview for those newly interested in interpersonal conflict and for those working on conflict in formal or business relationships." --Renate Klein in Journal of Marriage and the Family Conflict is a natural, even inevitable, aspect of most ongoing close relationships--a given. What distinguishes most successful relationships from unsuccessful ones is not the absence of conflict, but how conflict is managed. Relationship Conflict skillfully portrays the different types of conflict that we encounter in our most significant personal relationships: parent-child, friendship, and romantic relationships. The authors capture the essence of current research and theory to shed light on conflict's role in human interaction. Drawing from the findings of multiple disciplines, this volume takes a developmental look at childhood friendships through dating to married relationships. The result is a richer understanding of interpersonal involvement that is accessible to close relationship researchers and professionals and students in many service-based fields. Relationship Conflict provides up-to-date information on interpersonal conflict pertinent to many different disciplines: researchers as well as advanced undergraduate and graduate students in communication, family studies and human development, and sociology and professionals in psychology, social work, and nursing.