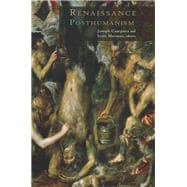 Note: Supplemental materials are not guaranteed with Rental or Used book purchases.
ISBN: 9780823269563 | 0823269566
Cover: Paperback
Copyright: 3/1/2016
Too often contemporary work in posthumanism presents itself as a rejection of Renaissance humanism when what it rejects is a straw man--albeit a straw Vitruvian Man--that bears little, if any, resemblance to Renaissance humanism qua the skeptical, critical, and irreverent close readings of ancient texts and cultures. Ironically what is being repressed, fantasized, and evaded in these accounts is nothing other than Renaissance humanism itself. Connecting Renaissance humanism to the variety of "critical posthumanisms" in 21st-century literary and cultural theory, Renaissance Posthumanism reconsiders traditional languages of humanism and the human but it does so not by nostalgically enshrining or triumphantly superseding humanisms past but rather by revisiting and interrogating them. What if today's "critical posthumanisms," even as they distance themselves from particular iconic representations of the Renaissance (e.g. Leonardo da Vinci's Vitruvian Man), are in fact moving ever closer to ideas in works from the 14th to the 17th century, where "the human" is at once embedded and embodied in, evolving with, and de-centered amid a weird tangle of animals, environments, and vital materiality? Seeking those patterns of thought and practice that allow us to reach beyond the pre- and post- of historical periodization, contributors to this collection focus on moments where Renaissance humanism looks retrospectively like an uncanny "contemporary"--and ally--of 21st-century critical posthumanism.