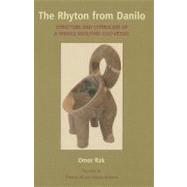 Note: Supplemental materials are not guaranteed with Rental or Used book purchases.
ISBN: 9781842179772 | 1842179772
Cover: Hardcover
Copyright: 3/28/2011
The so called rhyton (pl. rhyta) from Danilo, an archaeological site near the coastal town of Sibenik in Dalmatia, Croatia, is a four-legged Neolithic vessel made of baked clay that according to the consensus of archaeological opinion was a cult-vessel most likely used in rituals of unknown origin and content. 'Danilo culture' is the eponymous name bestowed on a culture flourishing in the period of about 5300 - 4800 BC in Danilo and in some neighbouring sites. This culture had great influence along the eastern Adriatic coast and its hinterland, and produced a significant number of these vessels. It is important to note that the rhyta from Danilo have nothing in common with rhyta from other historic periods, for example, from the Minoans & Mycenaeans, or rhyta from the classical period of Greece, nor those from the Achaemenid Persians, etc. It owes its name to the conclusion of archaeologists that it was used for ritual libation, but there is no reliable evidence for such statements, especially when the receptacle (inappropriate for such purpose) is closely examined.