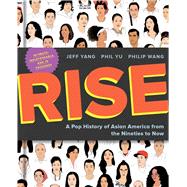 Note: Supplemental materials are not guaranteed with Rental or Used book purchases.
ISBN: 9780358508090 | 0358508096
Cover: Hardcover
Copyright: 3/1/2022
Cultural critic Jeff Yang, blogger Phil Yu of Angry Asian Man, and Wong Fu Productions' Philip Wang team up (with iconic guests!) for a graphic romp through the ups and downs of how, over the past three decades, Asian Americans went from quiet and invisible to incredibly relevant and irresistibly cool

The first generation of U.S.-born Asian Americans raised after 1965's Hart-Cellar Act passed would have found it difficult to imagine that sushi and boba would one day be beloved by all, that a Korean boy band named BTS would be the biggest musical act in the world, that one of the biggest movies of 2018 would be Crazy Rich Asians, or that a Facebook group for Asian American identity memes would be 2 million members strong. And that's not mentioning the execs working behind the scenes at major companies; the activists and representatives fighting for equity; and the singers, rappers, dance crews, and social media pioneers making their mark on pop culture. And still: Asian America is just getting started.

In this intimate, eye-opening, and frequently hilarious guided tour through the pop-cultural touchstones and sociopolitical shifts of the 1990s, 2000s, 2010s, and beyond, Jeff Yang, Phil Yu, and Phil Wang chronicle how we've arrived at today's unprecedented diversity of Asian American cultural representation through engaging, interactive graphics (like a step-by-step walk-through of a typical night out in Koreatown...for those who probably won't remember it the day after), charts (how much has yellowface fluctuated decade over decade?), graphic essays from major AAPI artists, exclusive roundtables with Asian American cultural icons, and more, framed by extended insider narratives of each decade by the three co-authors. Rise is an informative, lively, and inclusive celebration of community, and will remain a cultural touchstone for years to come.