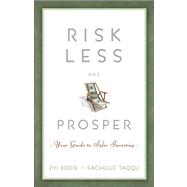 Note: Supplemental materials are not guaranteed with Rental or Used book purchases.
ISBN: 9781118014301 | 1118014308
Cover: Hardcover
Copyright: 12/27/2011
A straightforward guide to getting investing right Somewhere along the way, something has gone horribly wrong with the way individuals save and invest. Too often, households are drawn in by promotional suggestions masquerading as impartial investment advice. Consumers get saddled with overpriced investment products and more risk than they can handle. Even worse, Wall Street will sometimes feed them information and ideas that are riskier than the average investor realizes. Author Zvi Bodie understands the dilemma that todays investors face, and with The Little Red School House for Investors he will help you find your financial footing. Written in a straightforward and accessible style, this practical guide skillfully explains how to understand investment risk and how to choose the particular blend of risk and safety that is right for you. It explores several simple, yet powerful ways for small investors to construct a reliable safety net that will allow them to achieve their financial goals and truly prosper over the long run. Bodie challenges the myth that all investments require risk, and then highlights some important risks that families often forget about when deciding where to put their money. Later, he connects the dots between investment and investor, showing all of us how to gain a clear grasp of our own investment risk profiles and how we may use this to make better investment choices. Outlines an accessible way to invest that allows you to align your investments based on the risk levels you can bear Lays out an actionable five-step plan that builds an investment portfolio that keeps you afloat in bad times and can also last a lifetime Explains the role of risk-free assets and investment insurance in moderating the overall risk in a portfolio Contrary to popular belief, investing doesnt have to be complicated. You can build true long-term wealth without taking great risks. The Little Red School House for Investors will show you how to make investment decisions that will make your financial life less stressful and more profitable.