Roadblocks on the Information Highway The IT Revolution in Japanese Education
, by
Bachnik, Jane M.
;
Anderson, Ronald E.
;
Aya, Yoshida
;
Brumby, Edwin H.
;
Cole, Robert E.
;
Hidetoshi, Ando
;
Kumar, Kumar R.
;
Masahiro, Narita
;
McVeigh, Brian J.
;
Noyuri, Mima
;
Rimmer, Peter J.
;
Rtischev, Dimitry
;
Scott, Douglass J.
;
Shire, Karen A.
;
Slater,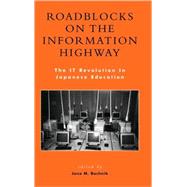 Note: Supplemental materials are not guaranteed with Rental or Used book purchases.
ISBN: 9780739105641 | 0739105647
Cover: Hardcover
Copyright: 3/4/2003
Although Japanese universities have relied on information technology to resolve numerous problems, their high expectations are undermined by lags in implementing that technology. This innovative edited volume argues that lags in IT implementation in Japanese education are created by contradictory and challenging responses of the social environment. If this dialectic can be visualized as having hands, the right avidly promotes IT, while the left hand simultaneously blocks it. The result, of course, is an impasse. The issues central to this stalemate are significant because they point beyond the schools, to a broader set of problem areas in Japanese society. The contributors to Roadblocks on the Information Highway discover and discuss the contradictions inherent in Japanese society and culture as they are played out in the social contexts of IT service providers, web masters, and classroom teachers who implement IT. They then show how these contradictions indicate broader, structural problems that pervade the dynamic between Japanese education and the state and business sectors. Ultimately, in a reach that goes beyond Japan, this book examines relationships between technology and society, persuasively convincing readers that the modern age has created an inextricable link between the two.