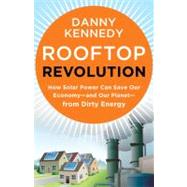 Note: Supplemental materials are not guaranteed with Rental or Used book purchases.
ISBN: 9781609946647 | 1609946642
Cover: Trade Paper
Copyright: 9/3/2012
In the wake of the Solyndra collapse, solar power's detractors-particularly the fans of fossil fuel-have been proclaiming that solar is just a hippie pipe dream. But as Danny Kennedy points out, Solyndra failed precisely because it was unable to compete in a red hot industry. The signs are everywhere: the United States and China have for the first time invested more money in clean, renewable energy than in dirty fossil fuels. Germany already gets 25% of its power from the sun-and created 250,000 clean energy jobs in the process. Warren Buffet just bought a $2 billion solar project in the Southwestern desert. But these are facts the mainstream media has largely failed to report In this succinct, hard-hitting book Kennedy shows that solar can save money, create jobs, and restore the environment-it's only politics and perception that are preventing it. For consumers, he describes the technological advances that have now made solar so cost-efficient and practical it's now competitive with gas and coal electricity. He breaks down the 100,000 jobs solar has already created in America and explains how it could create far more. Decrying the lack of leadership in this area on the part of both political parties, he outlines how we can take advantage of this historic opportunity to free ourselves from dependence on destructive and declining forms of energy and unleash the unlimited power of the sun.