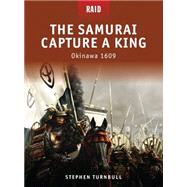 Note: Supplemental materials are not guaranteed with Rental or Used book purchases.
ISBN: 9781846034428 | 1846034426
Cover: Paperback
Copyright: 11/17/2009
The raid by samurai of the Shimazu clan of Satsuma on the independent kingdom of Ryumacr;kyumacr; (modern Okinawa) in 1609 is one of the most extraordinary episodes in samurai history, and the culmination of centuries of rivalry between the two powers. Needing to curry favour following their defeat at Sekigahara in 1600, the Shimazu planned an audacious operation intended to capture the islands and the king of Ryumacr;kyumacr; on behalf of the new Shogun. Assembling a Urge and modern army, the Shimazu daimyo began by seizing the islands that lay between Satsuma and Okinawa, then launched an amphibious landing to secure a beachhead. A rapid advance overland, disguised by a feint against the harbour of Naha, led to a complete victory that saw the king of Ryumacr;kyumacr; taken hostage and the Shimazu clan's aims achieved. This is a fascinating, yet little-known raid that brought independent Ryumacr;kyumacr; under the dominion of Japan, and solidified the Shimazu clan's status in the region. Book jacket.