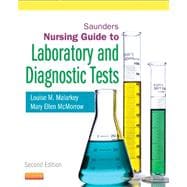 Note: Supplemental materials are not guaranteed with Rental or Used book purchases.
ISBN: 9781437727128 | 1437727123
Cover: Paperback
Copyright: 10/1/2011
· This complete lab book contains the latest information on testing organized alphabetically for quick reference. · It has student-friendly features that provide great information for practicing nurses. · "Significance of Test Results" sections list the diseases and disorders that are associated with abnormal findings, and Test Result Indications sections list the possible clinical significance of abnormal findings. · Tests are presented in a format that emphasizes the nurse's role, and includes Basics the Nurse Needs to Know and Nursing Care. · The clinical purpose of each test is identified, and how each test is performed is clearly explained. · A pronunciation guide for the name of each test helps with difficult terminology A focus on nursing explains how lab tests are used in nursing care. Alphabetical organization makes every test easy to find. Pronunciation guides for test names help students with difficult terminology. "Purpose of the Test" sections identify the indications of each test. "Basics the Nurse Needs to Know" offers an explanation of each test in clear, simple language. Normal Values in standard and SI units include variations for gender and age, where relevant. Critical Values are highlighted with the Normal Values, where relevant. "How the Test is Done" sections succinctly describe how each test is performed. "Significance of Test Results" sections list the diseases and disorders that are associated with abnormal findings. "Interfering Factors" sections list of the factors-such as drugs, herbs, and improper specimen collection and handling-that inadvertently affect test results. "Nursing Care" sections explain what the nurse is to do pretest, during the test, and posttest, and highlights nursing responses to critical values and complications, patient teaching, and health promotion. "Health Promotion" information is highlighted where relevant, noting the use of a test for screening asymptomatic individuals, with a testing schedule or other indication for when the test should be performed. Patient Teaching information is highlighted to make this crucial nursing content easy to find. Nursing Responses to Critical Values and Complications note what the nurse should be alert for during and after the test and how to manage dangerous situations. Appendix D: Common Laboratory and Diagnostic Tests for Frequently Occurring Medical Diagnoses lists the tests used most often for various disorders, and is a handy guide for students using lab tests in clinicals, as well as for practicing nurses. Appendix E: Tests by Body System with Test Purpose lists all tests with page number of the main entry, along with the purpose of each test for quick reference. The new JCAHO guidelines for abbreviations are followed to reduce errors in laboratory readings.