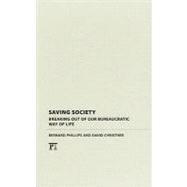 Note: Supplemental materials are not guaranteed with Rental or Used book purchases.
ISBN: 9781594517761 | 1594517762
Cover: Hardcover
Copyright: 8/30/2010
Why are a wide range of problems increasing throughout the world at this time in history? Einstein claimed that the unleashed power of the atom has changed everything save our modes of thinking and we thus drift toward unparalleled catastrophe. The current worldwide economic crisis indicates that we are experiencing highly threatening problems in addition to nuclear Armageddon that we fail to understand. Following Einstein's implicit suggestion, we require nothing less than changing our modes of thinking. This is what Phillips and Christner point toward in tackling our fundamental assumptions or metaphysical stance. They see our bureaucratic way of life as much of the basis for escalating problems. Yet fully half of the book is devoted to presenting an alternative: an evolutionary worldview and way of life. They build on our two most powerful tools, presently used only to a limited extent: language and the scientific method. By so doing, they contrast our present outward perception and thought, emotional repression, and conforming behavior with inward-outward perception and thought, emotional expression, and deep action and interaction. This alternative is linked to evolutionary social structures such as deep dialogue, deep democracy, and institutions that confront their problems ever more effectively. They presents a worldview'"coupled with a strategy for moving toward it'"based on realism no less than idealism, or the glass half empty as well as the glass half full. Saving Society addresses our escalating social problems by building on key ideas from recent books of the Sociological Imagination Group, including Beyond Sociology's Tower of Babel(2001), Toward a Sociological Imagination(2002), The Invisible Crisis of Contemporary Society(2007), Understanding Terrorism(2007), Armageddon or Evolution?(2009) and Bureaucratic Culture and Escalating Problems(2009). It makes use of language's dichotomous, gradational, and metaphorical potentials coupled with a broad and systematic approach to the scientific method, presenting an image of the future for the individual no less than for society.