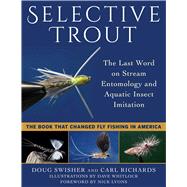 Note: Supplemental materials are not guaranteed with Rental or Used book purchases.
ISBN: 9781510729858 | 1510729852
Cover: Paperback
Copyright: 1/2/2018
Carl Richards' and Doug Swisher's book Selective Trout signaled the end of a classic fishing age, and helped usher in a new one. —American Angler

When it was originally published in 1971, Selective Trout was universally acclaimed as the most revolutionary approach to aquatic insect imitation in the twentieth century. Using common sense, science, and imagination, authors Doug Swisher and Carl Richards developed a wide array of new patterns that were in sharp contrast to those offerings used by American fly fishermen up to that time.

Their radical no-hackle dry fly, in particular, proved to be a more convincing, natural silhouette than anything anglers had ever seen before. With hatch charts covering different regions of the country, and featuring detailed tying instructions for flies that could be used in those regions, all liberally illustrated, the book provided anglers with a new arsenal of deadly fly patterns.

Thirty years later, 200,000 copies have been sold. This updated and revised edition, with new observations on trout behavior as well as detailed instructions on how to keep useful fishing logs, features detailed appendices on terrestrials, mayflies, caddisflies, and stoneflies. Not only that, but the new edition included hundreds of color illustrations by the renowned artist and fly-fishing innovator Dave Whitlock.

It's hard to imagine how anything could top that. In this new paperback edition of Selective Trout we know that we can't top what's been done previously. But we do know that this deserves to stay in print, because it's the type of book that every fly fisherman should own and read. To add a new twist to this new edition, what we have done is added a new introduction by Doug Swisher (Carl Richards passed away in 2006), plus a new foreword by Nick Lyons, the book publisher who had the foresight to get behind the book in the first place.